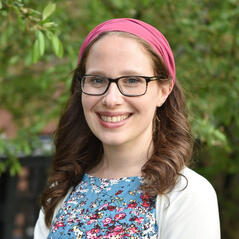 Rachel Rosenthal
Dr. Rachel Rosenthal holds a PhD in Rabbinic Literature at the Jewish Theological Seminary,
where she serves as an adjunct Assistant Professor in the Department of Talmud and was voted List College Professor of the Year in 2018. She writes a regular newsletter on the intersection of Torah and everyday life, which you can subscribe to here.

Dr. Rosenthal is a current Research Fellow and faculty member at the Shalom Hartman Institute of North America, where she previously served as a David Hartman Center Fellow. She also serves on the faculty of the Academy for Jewish Religious. A graduate of the Drisha Scholars Circle, she has taught at Hadar, the Drisha Institute, Context, the Maimonides Scholars Program, and in Nishma: A Summer of Torah Study at JTS. She has been a Graduate Fellow in the Center for Jewish Law at Cardozo Law School, and a Wabash Teaching Fellow at JTS. Dr. Rosenthal has also served as an American Jewish World Service Kol Tzedek Fellow and taught at the 92nd Street Y, Limmud, the JCC in Manhattan, and in communities around the world, from Canada to Australia.

Her writing has been published by Tablet, The Forward, JOFA, and the Times of Israel. She serves as co-chair of the Ritual Committee of Darkhei Noam, a partnership minyan on the Upper West Side of New York City. Dr. Rosenthal holds a BA in Religious Studies from the University of Pennsylvania.

Interested in learning one-on-one, joining a class, or bringing Dr. Rosenthal your community? Send her a message here. You can also subscribe to her newsletter to get her latest teachings and writings sent straight to your inbox.